In March 2016, World of Children Award Founders Harry and Kay Leibowitz and World of Children Award supporters are visiting three World of Children Award Honorees to observe their work first-hand and see how your donations have made a difference in the lives of children. World of Children Award Celebrity Ambassador Stephanie March joined them for the first two legs of their journey.
First Stop – Argentina to learn more about Dr. Ricardo Bennun's work with children suffering from facial deformities
Over the last two days, we shared the work of Dr. Ricardo Bennun, a plastic surgeon in Argentina who has dedicated his life to providing reconstructive surgery to children of impoverished families free of charge. In 2007, we honored Dr. Bennun with our World of Children Health Award. We were so impressed with the way he leveraged our award to help more children that we re-honored him in 2015 with our Alumni Award. This year, we're thrilled that some of us got to visit Dr. Bennun in person, meet the children he's helping, and share his amazing work with many more people.
Because a picture is worth a thousand words, we're thrilled to introduce you to some of the amazing children we had the privilege to meet over the last two days!**
Brando takes it all in from the comfort of his mother's arms as he waits for his follow-up surgery. He and his mother traveled almost 1,000 miles to reach Dr. Bennun's clinic.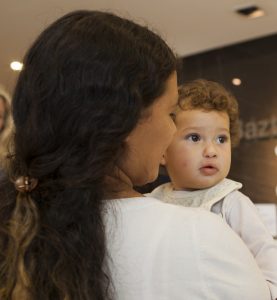 Valentina's sparkling personality helped her make fast friends with our group in the waiting room before her surgery.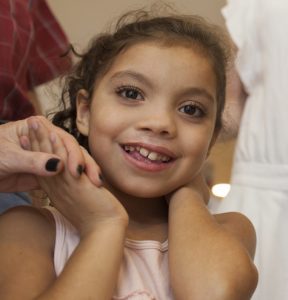 Happy siblings Lucas and Micaela showed World of Children Co-Founder Harry Leibowitz how to "play ball" while their parents looked on.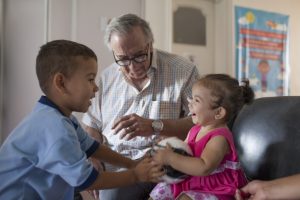 Baby Federico contemplates his socks as he waits for his consultation with an Asociación Piel doctor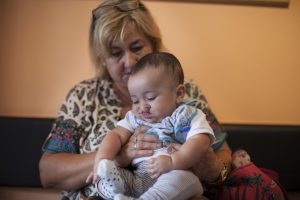 World of Children Award Board Member Sandy Sholl and Lionel Mendoza sat down for coloring time with Manuel and Sergio in the Asociación Piel playroom.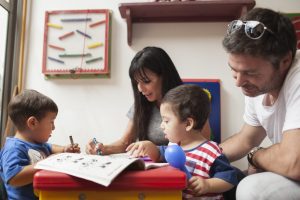 Dr. Bennun graciously took the time to explain some of the details of the work he and his staff do at Asociación Piel.
Our group, the parents and children, and some of the Asociación Piel staff gathered in the courtyard for a shared meal before saying goodbye…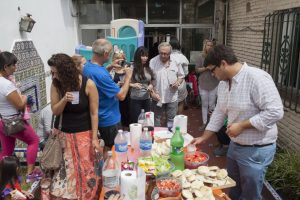 And grabbed one last photo to remember our amazing day by.
**Most children's names have been changed to protect their privacy.